Coming Up...
---
Winter Registration!!!
The Calgary Recreational Dodgeball Association is now in full swing of our Fall 2012 season. If you are interested in playing in the winter season, follow us on Facebook or Twitter for all your Dodgeball updates!
Quick Standings
---
Mondays Div 1
Big Balls and Nice Snatches
Keep Calm and Dodge On
Dodgy Tossers
---
Tuesday Div 1
BALLSAGNA!!!
Throw Bo Cop
T-Baggers 3.0
---
Wednesdays Div 1
The Farm Team
Dodgy Tossers
Balls in Yo Face
---
Tip of the Week
Try Throwing as a team, to better your chances of not getting your ball caught.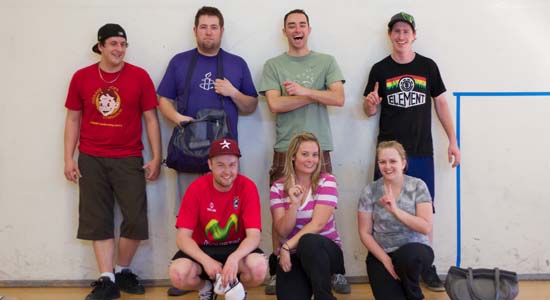 What's News
Hey Dodgeball Fans,
As you guys can all attest, Dodgeball is growing in popularity! So much so that the CBC did a story on our league. You can check it out by clicking
Thanks so much for your continued support for this league! I hope you are all enjoying your season so far.
Happy Dodging!
March 08, 2013
---